There are two kinds of people in the world.
There are some people who, rather than merely "entertaining" themselves, watch the most important, the most beautiful, the most challenging, and the most thought-provoking films released each year; and there are some people who don't.
The list below was created to assist the former.
_____________________________________________________________________
January 12th – Paddington 2 (2017), directed by Paul King
__________________________________________________
January 26th – Hostiles (2017), directed by Scott Cooper
From Allan Hunter at Screen International:
"Hostiles acknowledges that American history is steeped in blood and hatred but still searches for signs of hope arising from the ashes of countless atrocities. Scott Cooper's brooding western invests the genre with the psychological insights and guilty conscience of the 21st century. It may pay a commercial price for such noble intentions but it will attract audiences drawn to solemn, slow-burning dramas that give pause for thought …
Hostiles unfolds as a long journey from Fort Berringer in New Mexico to the Valley Of The Bears in Montana. Cinematographer Masanobu Takayanagi ensures that it is filled with sparkling images capturing the grandeur and changing landscapes of the American heartland. There are eye-catching images of fertile green plains, dusty desert mountains and riders captured against the dimming dusk light. There is no doubting the beauty of a country in which so many ugly things happen.
The widowed Rosalie becomes part of the company as they travel onwards. The journey is fraught with danger but filled with chances for sworn enemies to see the humanity in each other.
Christian Bale's Blocker is a gruff, taciturn figure more likely to grunt or nod his head than utter a sentence. Hardened by all the killing and hatred, he is similar to John Wayne's brutal racist Ethan Edwards in The Searchers (1956). Over the course of the film, Blocker becomes a changed man and it is a transformation marked by pensive moments, dawning realisation, lost friendships and anguish that all too rarely finds a expression. A fastidiously understated Bale is highly effective at conveying the deep waters running beneath his stern features."
__________________________________________________
February 16th – Black Panther (2018), directed by Ryan Coogler
__________________________________________________
February 16th – Early Man (2018), directed by Nick Park
__________________________________________________
February 16th – Loveless (2017), directed by Andrey Zvyagintsev
From David Sexton at the London Evening Standard:
"Andrei Zvyagintsev stunned Cannes three years ago with Leviathan, his film about overwhelming corruption and hopelessness in provincial Russia. Loveless, although turning away from politics, is an even bleaker indictment of a spiritual wasteland.
A handsome couple, Zhenya, a beautician, and Boris, a salesman, are divorcing and selling their flat in one of St Petersburg's towerblocks. Neither of them want to take on their traumatised 12-year-old son Alyosha. Both are trading up. He has a younger, blonde girlfriend, heavily pregnant, clingy and scared. She's delighted with her rich, hedonistic older guy.
As Zhenya and Boris row viciously, Alyosha screams silently, hiding in darkness behind a door. When he disappears, they don't even notice for two days. The police are useless but a group of volunteers begin vigorously searching for him, combing the woods, finding a den he has shared with his one schoolfriend in a remote concrete ruin, some kind of abandoned hotel or club, an image in itself of total desolation. There is no resolution and Zhenya and Boris only turn on each other all the more savagely. She never loved him at all, she says, it was all a mistake, the boy should have been aborted. He agrees.
This Russia has the accoutrements of material prosperity — new cars, mobile phones, endless selfies — within the ugly superstructure left by the Soviet state, but no heart, no soul. Zvyagintsev shows us this with great formal clarity, a kind of mortified calm. In those woods, the trees are fallen, leafless and decaying. Loveless sets a high bar for the 70th Cannes Film Festival."
__________________________________________________
February 16th – Western (2017), directed by Valeska Grisebach
From Michael Sicinski:
"Where John Ford set this trap in The Searchers by making John Wayne's antihero a murderous racist, Grisebach is subtler and diagnoses her present moment to a fine point. Her lone-wolf figure, Meinhard (Meinhard Neumann), is merely a liberal, blinkered by assumptions he scarcely knows he has. So when he is on a job crew from Germany, stationed at the Bulgarian border to build a hydroelectric pump, he adamently rejects what he sees as the chauvinism of his fellow Germans, who keep to themselves and, in a crass move, fly the German flag from their campsite wall. Instead, Meinhard is going to go into the nearby village and try to get to know the locals.
This isn't a huge stretch for Meinhard, who, we learn, has done time in the Foreign Legion. But this move sets Meinhard apart, since he is willing to struggle with those whose language he cannot speak, putting himself at a deficit of power. This, of course, is one of the tenets of good liberal behavior, and over the course of the film Meinhard is rewarded for it, not only through friendships and acceptance, but in more abstract ways such as tone, lighting, and framing. Grisebach makes it clear that he is our preferred point of identification. By contrast, Vincent (Reinhardt Wetrek), the job foreman, is repeatedly shown to be a cheat and a boor. His bullying interaction at the lake with local woman Viara (Viara Borisova) pretty much cements his status as a little man determined to seem big and bad.
In small, minor interactions, though, we begin to see Meinhard take liberties. At first, they are the sort that come along with not wanting to be taken advantage of, behaving as though he and the locals are on even footing and he is not a foreign patsy to be trifled with. But over time, as the villagers accept him, Meinhard starts to believe he has found the home that has eluded him throughout his life, and this is when he makes several strategic missteps. All the same, whether he had or not, Meinhard could be said to mistake hospitality for belonging, and in so doing he reveals himself to be far more presumptuous than Vincent or any other 'rude' tourist from the West.
Grisebach has brilliantly identified a continual human problem — the need to belong, to 'be down,' to be the one good guy who is accepted despite the sins of your own kind — and removed it from the classic 'Cowboys and Indians' template where, it should be said, it has become offensively simplistic, mixed up with overtones of Rousseau's 'noble savage' myth. In Western, the question is not so much one of white privilege — all parties in the equation here are white — as it is one of East vs. West and the economic power that comes along with it. This is not to say that Grisebach is replacing raced or gendered power with class. But she is making a problem of structured oppression, one which also impinges on the emotions, something legible outside of kneejerk stereotypes. Because of this, Western can show us the problem of cultural appropriation as more than just a power move. It is also an act of misguided sincerity, a structure of feeling."
__________________________________________________
February 23rd – Annihilation (2018), directed by Alex Garland
__________________________________________________
March 9th – A Wrinkle in Time (2018), directed by Ava DuVernay
__________________________________________________
March 16th – Tomb Raider (2018), directed by Roar Uthaug
__________________________________________________
March 16th – 7 Days in Entebbe (2018), directed by José Padilha

__________________________________________________
March 16th – Journey's End (2017), directed by Saul Dibb
From Adam Sweeting at The Arts Desk:
"There have been several film and TV versions of RC Sherriff's World War One play since it debuted on the London stage in 1928, but Saul Dibb's new incarnation, shown at London Film Festival, is testament to the lingering potency of the piece. Armed with a taut, uncluttered screenplay by Simon Reade and a splendid group of actors, Dibb evokes the terror and misery of the trenches without lapsing into preachiness or sentimentality.
Front and centre is Sam Claflin as Captain Stanhope, the much-admired commanding officer of an infantry company waiting nervously for an expected German onslaught. They know they're a sacrificial gesture, under-manned and under-equipped but ordered to 'hold them up as long as you can.' Stanhope is on the brink of mental collapse, holding himself together with whisky but sticking it out because 'it's the only thing a decent man can do.'
Claflin's staring-eyed desperation is agonising to behold (there's a dream sequence where he stares, mesmerised, into a searing orange inferno). In contrast there's Paul Bettany's Osborne (or 'Uncle'), a schoolteacher and family man who's found a kind of Zen resignation. His benign concern for his men, including the impossibly green newcomer Lieutenant Raleigh (a baby-faced Asa Butterfield), is touching but futile. Toby Jones brings wry relief as Mason the company cook, fighting a losing battle against the uneatable, while Stephen Graham finds comradely warmth amid the gloom.
The rotting trenches and aura of apocalyptic breakdown rapidly vaporise Raleigh's hero-worship of Stanhope (who's engaged to his sister), and his first taste of action shatters his public-schoolboy illusions. Dibb has added just enough filmic scope to fill out the play's contours without compromising the tightly-knit dramatic engine at its core. Excellent."
__________________________________________________
March 30th – Lean on Pete (2017), directed by Andrew Haigh
__________________________________________________
April 13th – Beirut (2018), directed by Brad Anderson
__________________________________________________
April 13th – The Rider (2017), directed by Chloé Zhao
__________________________________________________
May 4th – Avengers: Infinity War (2018), directed by Anthony & Joe Russo
__________________________________________________
May 4th – The Guardians (2017), directed by Xavier Beauvois
__________________________________________________
May 25th – Solo: A Star Wars Story (2018), directed by Ron Howard
__________________________________________________
June 8th – Ocean's 8 (2018), directed by Gary Ross
__________________________________________________
June 15th – Incredibles 2 (2018), directed by Brad Bird
__________________________________________________
Release Date TBA – Guernsey (2018), directed by Mike Newell
__________________________________________________
Release Date TBA – Mary Magdalene (2018), directed by Garth Davis
__________________________________________________
Release Date TBA – Tolkien (2018), directed by Dome Karukoski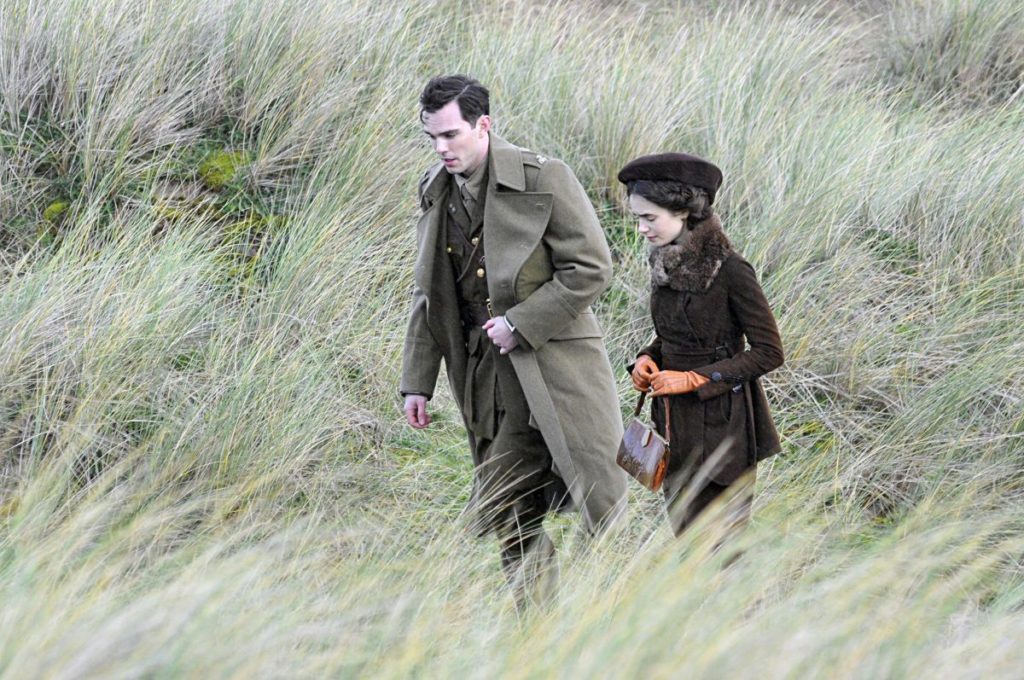 __________________________________________________